The holy city for Hindus- Banaras (or Benaras), officially called Varanasi and lovingly called Kashi, is in Uttar Pradesh in India.
It's said that taking a dip in the holy Ganges rinses away your sins, so of course, we had to visit the Ghats. There are almost 100 Ghats in the city, but the three most famous are the Dasaswamedh Ghat, the Manikarnika Ghat and the Harishchandra Ghat. Hindus believe that getting cremated at Manikarnika Ghat provides liberation from the cycle of incarnation.
We visited the Dasaswamedh Ghat as it is the only point approachable by vehicles. Apparently here 'das aswamedh', ten horses, were sacrificed by an emperor. Seemed gory, but our purpose was to rinse off our sins, so here we were. We saw quite a few hoardings declaring 'Ganga ke darshan hee, Ganga nahane saman hai' (visit to the Ganges is equivalent to taking a dip in its' holy water). So the government is discouraging people from taking a dip in the holy water, I thought. Works for us, the place honestly seemed dirty and the water was very muddy. But being a Hindu, it certainly feels good about being at that holy place. We hear taking a boat ride to the clean part of the river is beautiful, but higher water levels
in July prevents such an adventure. My son however wasn't willing to leave the place without making sure he's free of his sins. His older sister convinced him he definitely needed a dip. So my dad got us a little plate of diya (lamp) and flowers. After sprinkling the holy water on us, we gently let the pooja thali afloat- feeling good about having done the little ritual (but bad about contributing to the water pollution). My son then spotted a few people washing themselves with the holy water and suddenly he wasn't so sure of our seemingly insufficient ritual. I told him that what we did was enough and he goes, "You promise?" I promised, praying to God to accept it as sufficient. Before leaving the ghats, we had to try a good 'paan Banaras wala' at one of the street side paan shop, thoroughly enjoying the rickshaw ride to the car.
Next stop was the Kashi Vishwanath temple. There's one on Dasaswamedh ghat too, but the one on BHU (Banaras Hindu University) campus is newer. We wanted to visit the campus anyways. Banaras Hindu University or Kashi Hindu Vishvidyalaya was founded by Pandit Madan Mohan Malviya in 1916. It was the first of its kind in the country. He chose Banaras as the site, because of the centuries old tradition of learning, wisdom and spirituality inherent to the place. His vision was to blend the best of Indian education called from the ancient centres of learning – Takshashila and Nalanda, with the best tradition of modern universities of the west. We took a drive around the campus, right up to IIT-BHU. The BHU campus is beautiful, the unique architecture looks appealing and it's one of the most beautiful parts of the city. According to India Today, BHU is ranked First in India's Top 50 Universities of 2013,ahead of University of Delhi(Ranked 2). Several of its colleges, including engineering (IIT-BHU), science, linguistics, journalism & mass communication, performing arts, law, agriculture (IAS-BHU), medicine (IMS-BHU) and Institute of Environment And Sustainable Development(IESD-BHU), are ranked among the best in India. As for the Vishwanath temple, a Shiva temple, is beautiful and serene.
Next day we visited the Sarnath- where Buddha lived and gave his first preaching. It's glory was described by the Chinese travelers in 500 to 700 AD and it was destroyed at the hands of Muslim rulers in 1200 AD. The temple there has paintings on Buddha's life, my kids loved listening to all the stories about how prince Siddharth left the royal abode and later came to be known as Buddha and the story of Angulimala, who looted travelers, severed their fingers and added them to the necklace he wore. There's the Dhamekh stupa, 143 ft. high and 93 ft. in diameter, where Buddha delivered his first sermon- it was originally constructed by Ashoka. Next to Sarnath is a Banarasi Sari Emporium where we saw a Sari being weaved and bought my daughter's first Sari- from the holy land of her maternal ancestors.
Before leaving Banaras, there was just one more thing we had to do- eat the famous kachauris. We stopped at this very small road side restaurant, Sri Ram Sweets in kachahari and ate delicious kachauris in the ancient Indian disposables- 'dona pattal' plates and bowls (made of dried leaves- 100% biodegradable) and 'kulhar' (terrracotta cups). The place is run by Dilip Gupta. It's been in the family for 60 years when it was first started by his grandfather, Jhullan Prasad- originally called Jhullan Prasad & Sons. Also must-eat is the Jalebi and (if your stomach permits) Rabri in Banaras. Oh yes, if familiar places are what you like to go for, there's 'The Great Kebab Factory' at the Radisson Hotel in Varanasi. And of course, there's the Mc Donald's and the Bikanerwala as well.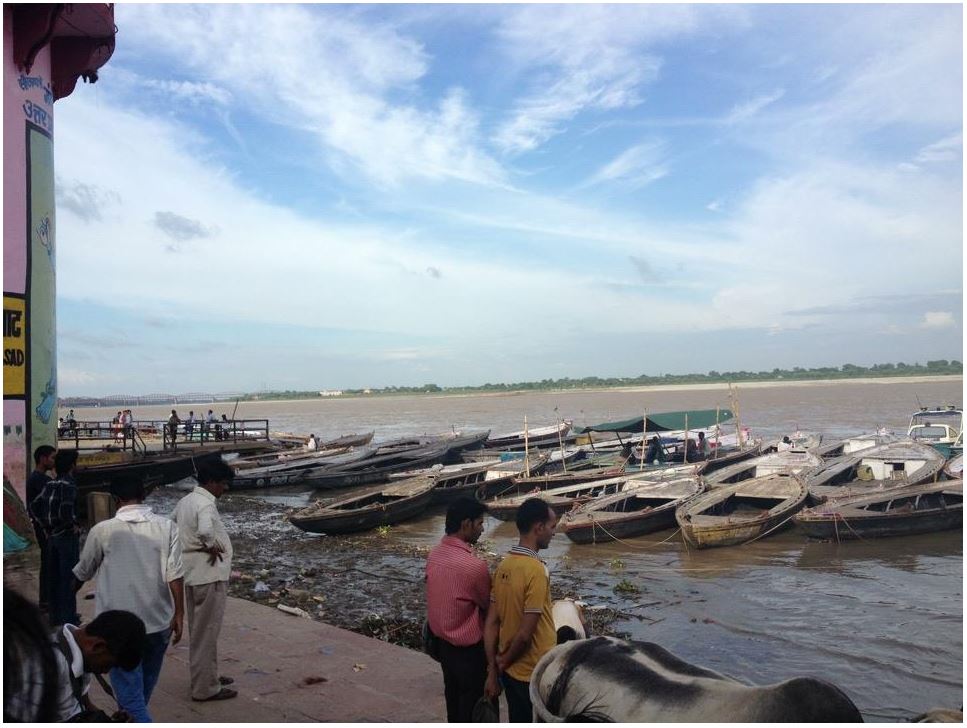 Some of the interesting facts about Banaras are-
It is one of the oldest living cities in the world.
In 1897, Mark Twain, the English author and literature, who was enthralled by the legend and sanctity of Banaras, once wrote : "Banaras is older than history, older than tradition, older even than legend and looks twice as old as all of them put together".
According to the Hindu mythology, Kashi is the 'original ground ' created by Shiva and Parvati, upon which they stood at the beginning of time.
Known for the art of silk weaving, Banarasi Silk Sarees and Silk brocades are cherished as collector's items across the world today.
The Banaras gharana of Kathak, an Indian classical dance, originated from here.
The 'Ramcharitramanas' of Tulsidas is said to have been written here.
Banaras has been home to many great writers and poets like- Kabir, Ravidas and Tulsidas.
For me, Banaras is not just a holy city for pilgrimage. It's where my mom grew up, my nana (grandfather) lived and close family still live. It's home. I feel sad about the fact that all the governments over the years have neglected this holy city that every Hindu and every Buddhist must visit once during his lifetime. As our plane takes off, I look at the city below and visualize a beautiful and clean city with good roads leading up to beautiful and clean Ghats where Hindu pilgrims visit in millions each year. How hard can it be- privatization of some of the Ghats, aggressive clean-up efforts, catchy slogans to get the masses to follow should do the trick. Maybe some day, someone will take up this cause!